ALL OF OUR PRODUCTS ARE PROUDLY MADE IN THE U.S.A.
We Provide Boarding Solutions!
Call us NOW to solve your boarding problems.
At Yacht Boarding Systems, Inc. we try our best to accommodate the needs of our customers.

When possible, we will modify our standard products or create a new product to meet our customers' requirements. We are thankful for our customers whom have made us very successful over the past ten years. If you have enjoyed our products, please tell your friends and fellow boaters about us. If you have had a problem with our products, please tell me so that I may examine the problem and find a fix. Jeff Karstadt
We are avalible Monday through Friday from 9 AM to 5 PM U.S. eastern time.
813-645-6666
Others, just sell ramps.
We provide solutions!
Yacht Boarding Systems product video. 10-11-2011
http://www.youtube.com/watch?v=dG8plkTM_8U
Miami Boat Show info segment video as seen on the Fox Sports Network "Pleasure Boating" program.
Watch this video NOW to see the Steadi-Plank™.

click here
BLP-4/6
Boat Lift Boarding System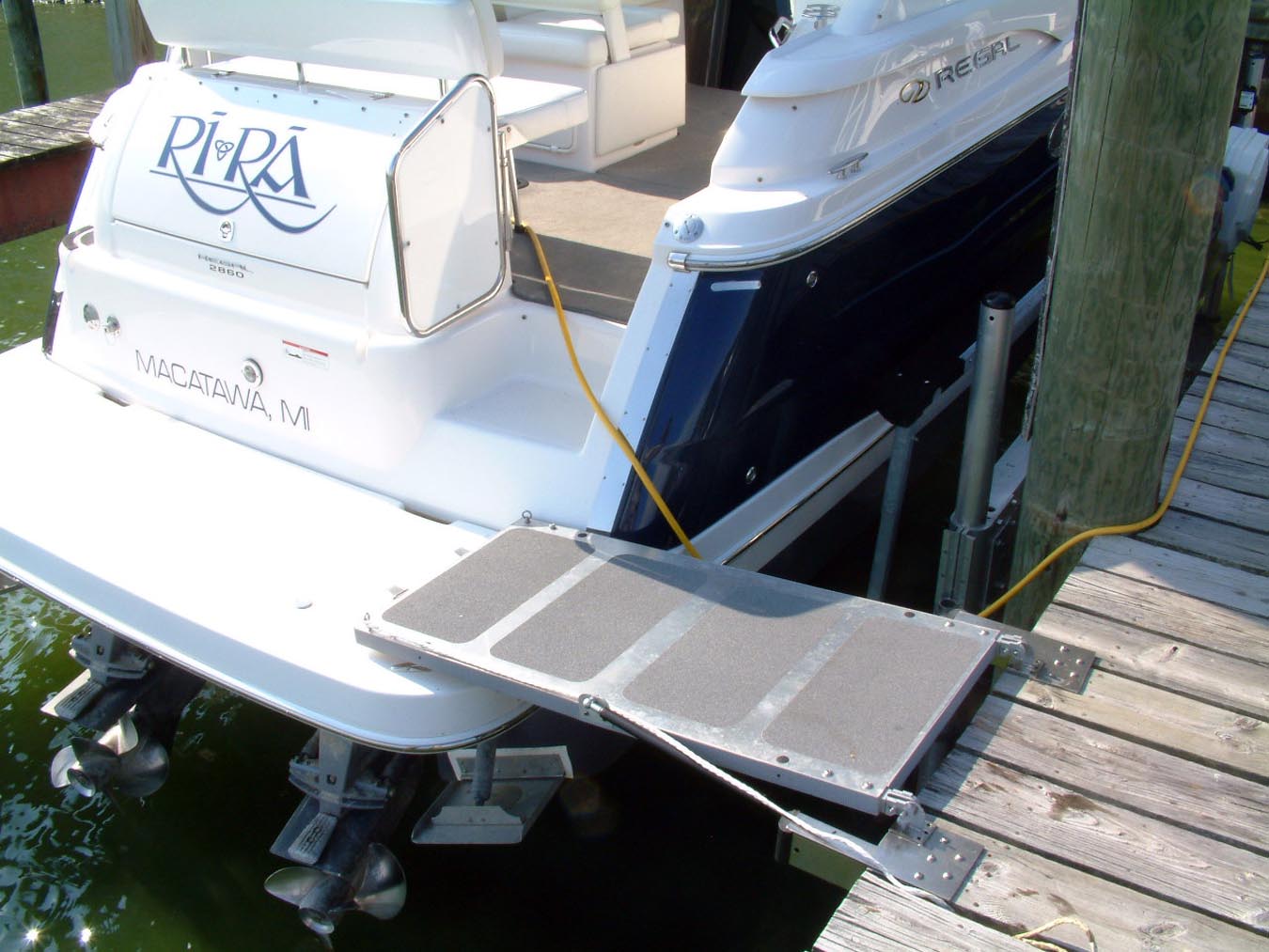 BLP-4 with BLP-M mount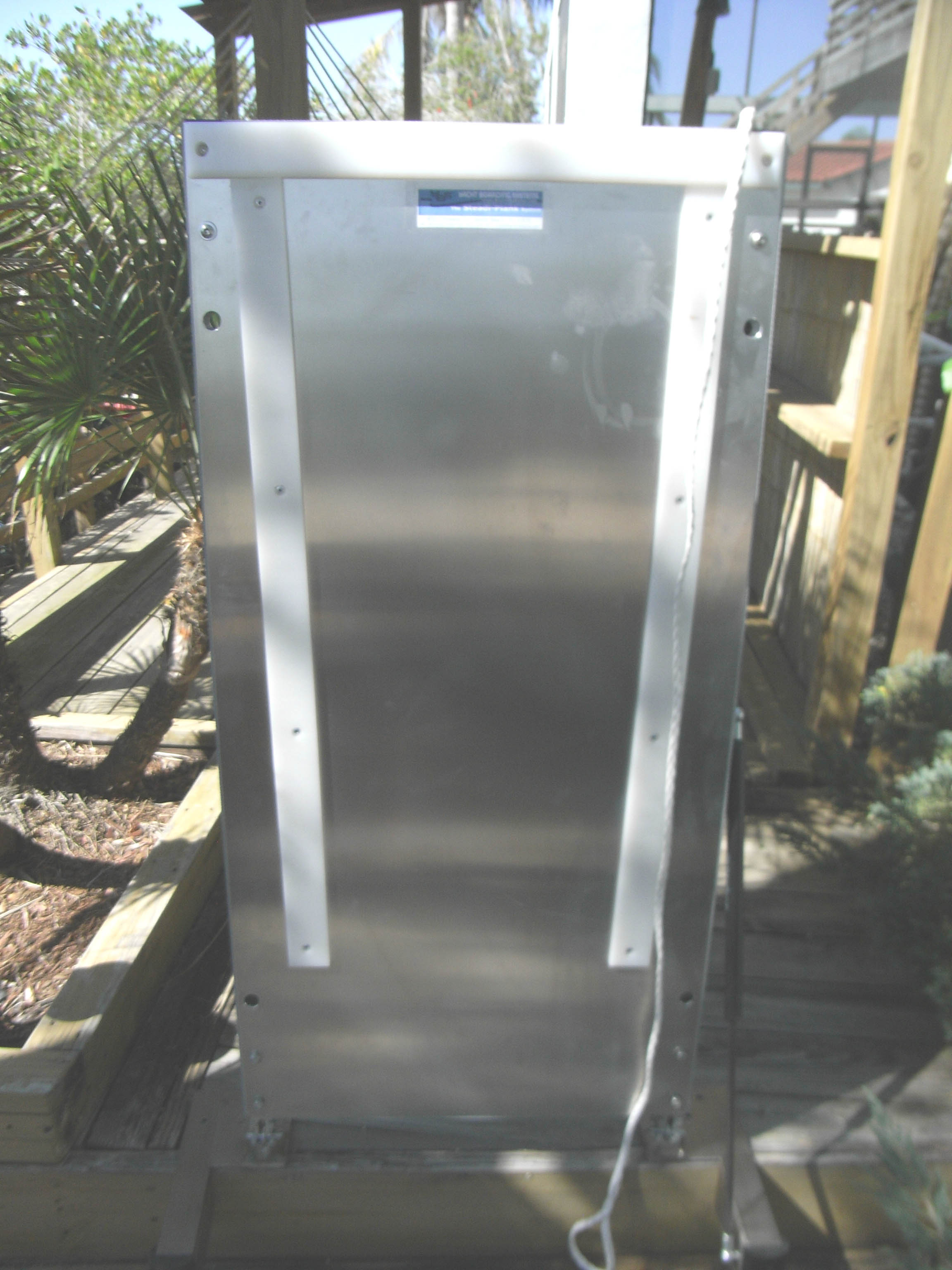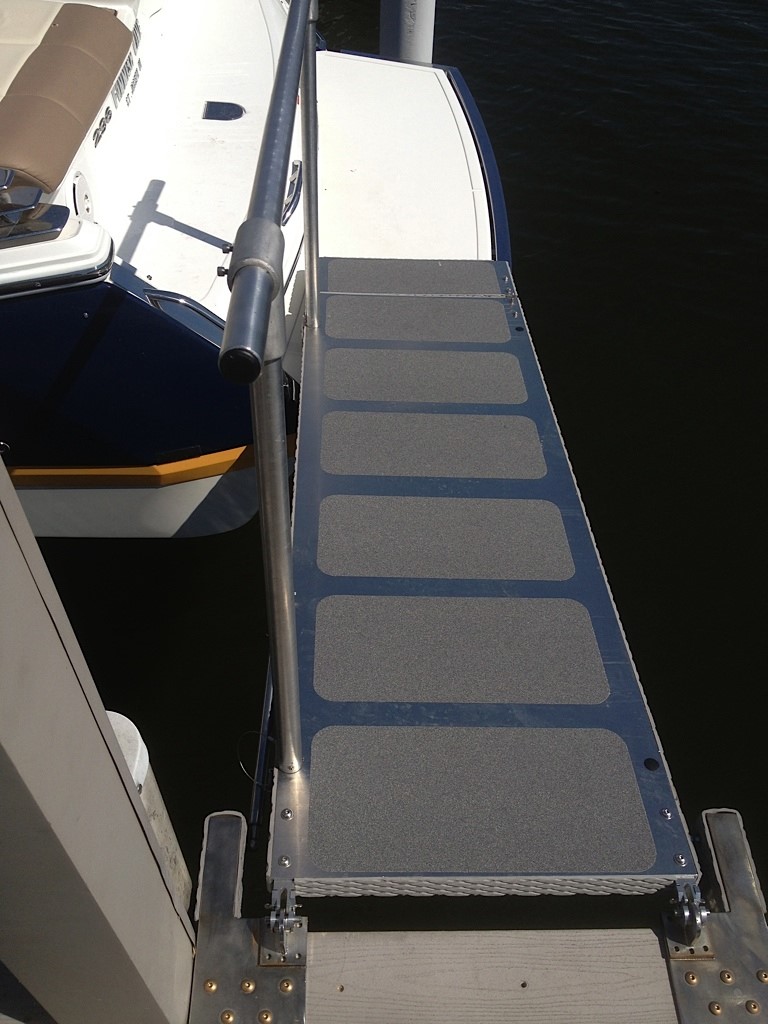 BLP-6 with BLP-M mount and HRK-6 handrail
The BLP-4 is a 4 foot long boarding ramp designed to be used with a boat lift. The BLP-4 makes it easy to board and carrying items on and off the boat. This system is also great to use on a floating dock to go from the dock to the swim platform of the boat or on a fixed dock to go to the boat's gunnel. Our ramps are not designed to be cantilevered. They must be supported at both ends either with one of our mounting systems,or be resting on a surface or with a supporting "trapeze arrangement" that will support the wight of the ramp with several people on it. for more imformation, click here
The BLP-4 has an MSRP of $1,590.00
Also avalible is the BLP-6, six foot version with an MSRP of $1,790.00
And avalible is the BLP-6T, six foot version with second gas spring the MSRP of this item is $1,890.00
The BLP-M mounting kit has an MSRP of $890.00.
We may have several products that are left from our boat show exhibit booth that we are selling at a discount.
Special Sale
Our PAS-BBR Flat Base Platform is available (ramp extra)-MSRP $2,898.00. The display unit on sale for $1,490.00. plus shipping and tax if in FL.
Other display items may be avalible, please call.
813-645-6666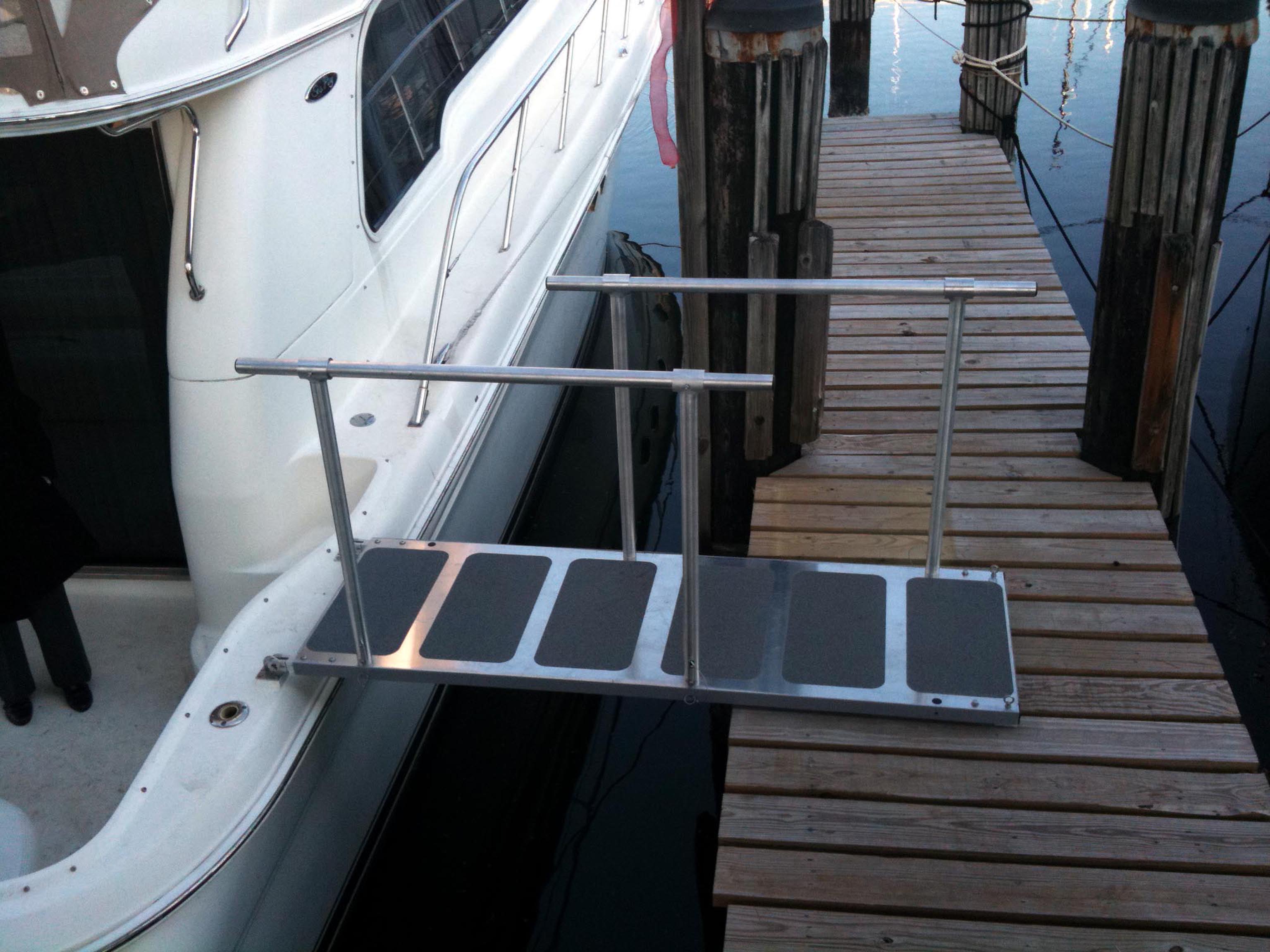 The STEADI-PLANK™ Boat Boarding Ramp System©
We all know that "One Size" does not fit all. The same is true for portable boarding ramps. One length of ramp will not always work for the many docking situations you will encounter. Also, depending on the docking situation and changing tidal conditions, you may need to mount the boarding ramp different ways and from different locations on your yacht.

The STEADI-PLANK™ Boat Boarding Ramp System© will allow you the flexibility to handle most all of the dock and boarding situations that you will encounter. The STEADI-PLANK™ Boat Boarding Ramp System© is made of marine grade aluminum, using the latest state of the art "space age" honeycomb core construction and bonding techniques.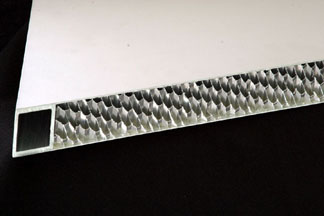 The STEADI-PLANK™ Boat Boarding Ramp System© is very versatile and can be re-configured and added to as your needs change. Thus assuring that your initial investment in the STEADI-PLANK™ Boat Boarding Ramp System© is secure. The fact that you do not have to discard what you have and start over when your boarding system needs change, makes the STEADI-PLANK™ Boat Boarding Ramp System© stand out from the others as a "best buy" value. For more information, click here.

We are specialist in custom boarding ramps, boat gangways, wheelchair Accessible boat ramps, and passerelles. We can build a size and design to accommodate your specific needs. Just contact us and let us help you acquire the STEADI-PLANK™ boarding ramp that is right for you.

We can make adaptors that will allow our mounting system to adapt to your existing ladder or ramp mounts.

Download brochure: front page click here, back page click here
Download price list click here

Need help in determining what size ramp you need? click here.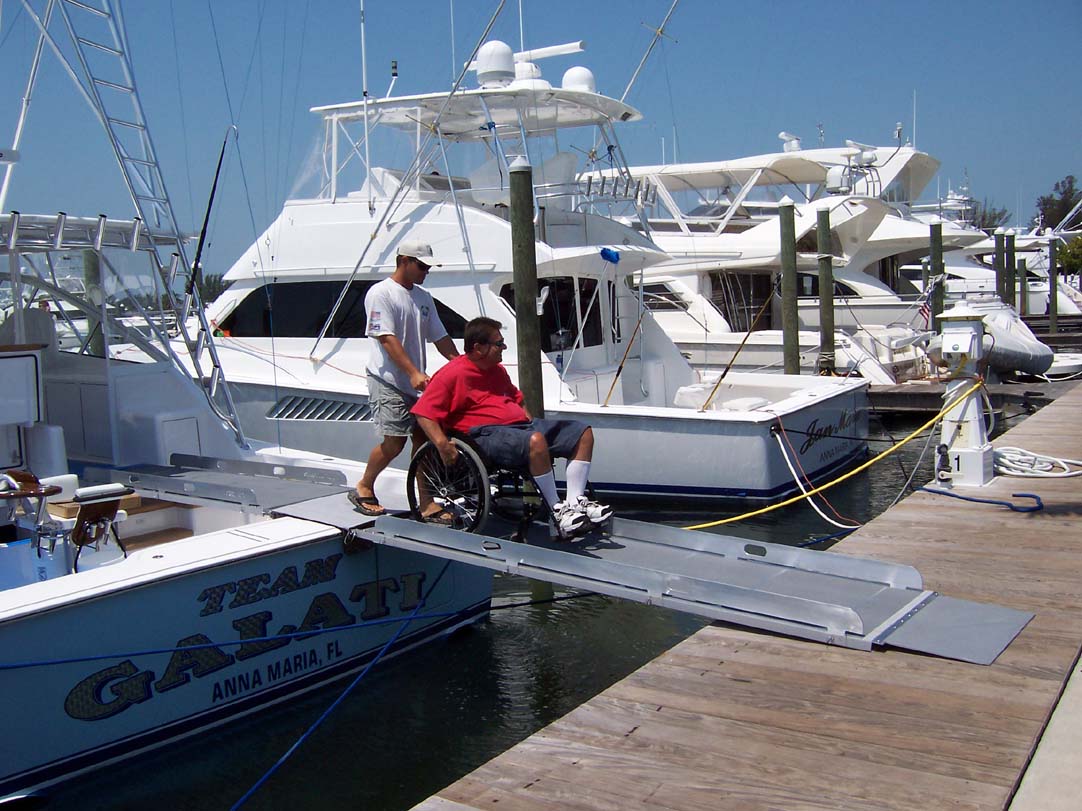 You don't have to make a leap of faith. For the safety and convenience of you and your guests…you should have The STEADI-PLANK™ Boat Boarding Ramp System.©