STEADI-PLANK™
Boat Boarding Ramp System


932 Chipaway Dr. Apollo Beach, Fl 33572 Ph# (813) 645-6666 Fax# (813) 645-3874

News Release
September 22, 2017
For immediate release
Apollo Beach, FL 33572
Contact Jeff Karstadt

Yacht Boarding Systems, Inc. has supplied its 21st USCG-FRC-66-S Travel Brow portable travel ramp boarding system to the USCG for use on their newest 154' "Sentinel" class fast response cutter (FSC). This travel brow is used when docking at ports away from their home port.

Company background.

Yacht Boarding Systems is an eleven year old company that manufactures portable boat boarding ramps. They have sold to recreational boaters; both power and sail, for use on vessels from 18' to 150'. YBS has sold to the military (Navy, Coast Guard, and Army), Homeland Security, commercial vessels, as well as to other markets. They are also the only U.S. manufacture of a wheelchair accessible light weight portable boarding ramp made especially for the marine environment. They are located in Apollo Beach, FL. For further information, contact Jeff Karstadt, GM at 813-645-6666.

Yacht Boarding Systems, Inc.
813-645-6666
www.boardingramp.com
info@boardingramp.com

Unsure about your first step..don't be..Use The STEADI-PLANK™ Boat Boarding Ramp System©!

.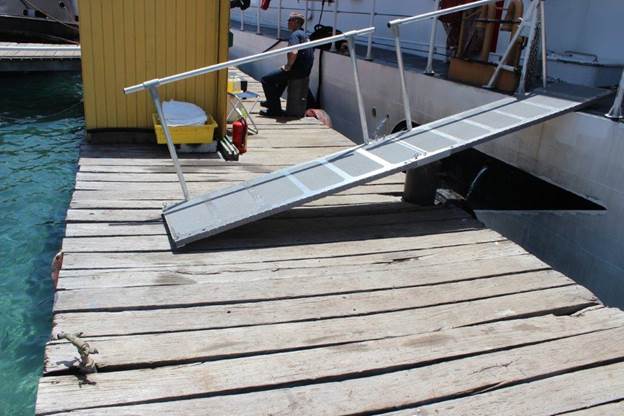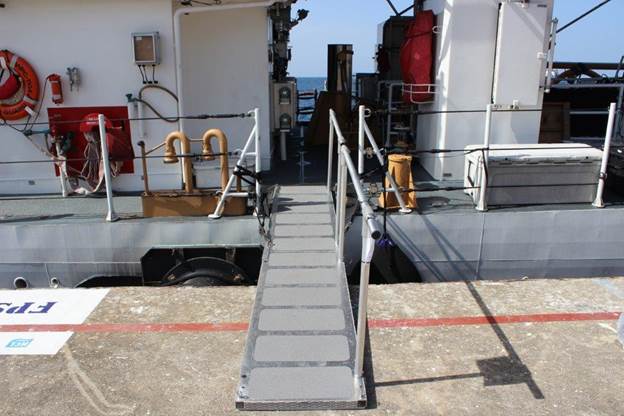 Click a link below to Go to:
Standard STEADI-PLANK™ Boat Boarding Ramp Systems©
Wheelchair Accessible Boat Boarding Ramps
Boat Boarding Ramp Install & Set-Up
Boat boarding Ramp Sales Information